Proceedings of the IFSR Conversation 2010, Pernegg, Austria
Alexander Laszlo,Kathia C. Laszlo,Stefan Blachfellner,Thomas Fundneider,Victoria Haro,Enrique G. Herrscher,Hellmut Löckenhoff,Johannes Pfister,Regina Rowland,Susana Herrera
Conversation Topic:
Designing a meta-system as a vehicle for enabling dialogue and collaboration among diverse and geographically dispersed individuals and institutions with a shared identity around innovating learning systems for sustainability.

Summary:
Our team worked on design issues at the intersection of learning, systems, and sustainability. We explored the urgent implications of sustainability as a framework for addressing the complexity and interconnectedness of global and regional challenges such a climate change, water shortage, energy supply, resources availability, and so on. At the core of such sustainability challenges are questions related to the way human and human activity systems live, learn and interact with
their environment.
The scaffolding we created for a meta-system of pro-active coadaptation (i.e., sustainability) of people with planet considered the dynamic interplay of ethics, aesthetics, and innovation in a learning and design context informed by science, spirituality, and pragmatics. Design was understood to be a product of self-organizing action inquiry (i.e., learning), and as such, is entirely emergent and ever evolving. By basing our design approach on systemic action inquiry we underscored the fact it is not possible – or desirable – to know what the result of the design will be at the beginning of the process. Freedom of the definition of outcome is essential.
This insight made clear that whatever we were to name our metasystem model, it would have to be about process, pattern and relationship rather than about product, outcome or object. We spent much time considering appropriate metaphors, but in the end chose to hold the naming playfully, to focus on the content of the model, and to let the name for it emerge.
The three main components of our meta-system for pro-active co-adaptation through self-organizing action inquiry are:
1. A "think tank" function that integrates two horizontal learning cycles; one based on selforganizing systemic action inquiry, and the other on the ontology of dynamic sustainability.
2. A "link tank" function that operationalizes the model through the design of a socio-technical system capable of capturing the emerging pattern language of successful pro-active co-adaptation for global systemic sustainability, and of structuring the emerging design insights into usable outcomes, such as a field guide on how socio-ecological challenges are resolved.
3. A "do tank" function that coordinates the action research initiatives of the various geographically dispersed participants, each engaging in their own systemic learning projects on issues of sustainability.
The operational cohesion of the link-tank serves to integrate the approaches developed in the individual projects of the do-tank in an emerging pattern language of sustainability captured in the think-tank. This pattern language is then fed back to the do-tank to inform and align them with each other as well as with the ever changing needs of global sustainability. The professional graphic representations in this report were created by Regina Rowland unless otherwise noted.
Learning Systems for Sustainability (Detailed report of Team 3)
Sustainability has become a major topic within universities and institutions involved in development initiatives. Sustainability recognizes the complexity and interconnectedness of global and regional challenges such a climate change, water shortage, energy supply, resources availability, and so on. At the core of sustainability challenges are questions related to the way human and human activity systems live, learn and interact with their environment. This team will focus on two objectives:
• identifying the systemic principles relevant to formal and informal programs focused on sustainability (both educational (e.g., degree programs and community workshops/trainings), and entrepreneurial (e.g., social businesses and cause-driven ventures));
• designing a meta-organization (e.g., a consortium) as a vehicle for enabling dialogue and collaboration among diverse and geographically dispersed individuals and institutions with a shared identity around innovating learning systems for sustainability.
General reflections
-Combining emerging themes –
o Our team: Learning Systems for Sustainability
o Ockie's team: Creating Systems Education Curricula
IFSR Conversation in Pernegg 2010 29
o One of our main objectives: emerging a meta-system of sustainability initiatives
o Attending to our individual needs: intra-personal syntony
-Moving our process through the 5+ Cs –
o Conceptualize
o Crystallize
o Concretize
• calculate
o the 7 questions of investigative journalism –
-who?
-what?
-when?
-where?
-why?
-how?
-how much?
-Commit
• coordinate
o Create
o Cultivate
World Café Conversation rounds focused on the ideal outcomes from this week —
(The World Café is a soft technology of social interaction developed by Juanita Brown and David Isaacs to help groups focus on "conversations that matter." For more on the World Café, follow this link "http://www.theworldcafecommunity.org/")
World Café Conversation Team 1:
-a spiral of integration
-create the first node with the Creating Systems Education Curricula group
-looking for a human and interpersonally significant set of relationships based on the 5+ Cs
-starting with some actionable set of objectives that each of us could go home with and follow up on
-creating nodes that are action spaces that invite deep dives
o using the 5+ Cs
o resources, actors,
o CATWOE
-containers and categories that help provides the scaffolding for an action plan
World Café Conversation Team 2:
-coming up with a meta-meshwork thing
o creating a common vision for that
-a systemic action research piece
-a project based action
-a pattern language for sustainability (Christopher Alexander)
-open university idea
-particular existing projects that lend themselves to this stuff
• ELI
• BTI
• etc.
-place -> community
-prioritize what we do
-get a name -> identity
-commitment to the vision
-an action plan
World Café Conversation Team 3:
-starting from what we heard about designing meta-systems for learning for sustainability
-connecting what is already here
o not just reinventing efforts
-not much time to build all this
o it needs a lot of energy
-putting together a list of activities/actions in this special field
o the ones that will have the most probably effect
o with the least require effort or input
-thinking of this as performing systemic acupuncture
o where are the hubs that can be best activated
o touching the sensible points which will put into motion dynamics within the societal body healthy evolutionary processes
-this involves knowing the what are the sensible points
• feeling of identity in a nation
• economy,
• etc.
-the chakra points of the spiritual
• the points that keep the society together
• the points that draw society apart
-key learnings emerging from our conversation – so far…
o team teaching with different perspectives
o self organizing learning as an essential tool for learning environments for adults
o multidimensional spaces with appropriate architecture, cognitive emotional spiritual
o the freedom of the definition of the outcome is essential
-at the beginning, you cannot know what the result will be
-powerful learning is action based
From conceptualizing to crystallizing – a creative conversation
Victoria:
-We need a true purpose
-We need to take this conversation to another level
o or else it will be a waste of time
o it needs to be a conversation that brings us to a place where we are really cocreating
-We need to seek to do this in a more profound way
IFSR Conversation in Pernegg 2010 31
Stefan:
-We are in an uncomfortable zone now – and that means we are on track!
-Each of us may have some projects in our mind – in our backpacks – and we are trying to get them into the common project that we are 'projecting' here on our diagrams.
o I am particularly interested in the Link Tank
-we could really connect and bring into play so many things
Kathia:
-I am really attracted to the process that is emerging in the diagrams we are creating
o the emergent aspect of creating a purpose that is based on a dynamic of certain components that, when brought into interaction in a certain way, emerge directionality
Thomas:
-here is a process we can use for how to go on —
o we have to get into the hands on work
-taking the two models, explaining what are the research areas, explaining what is in there, defining our actions
-understanding our boundaries, seeing the points of our purpose and our values, and then bringing them down to specific points of costs, material, and other details.
-moving from ideals/ideas to concrete working model
o what science fields are involved, what spirituality, etc.
Emerging Questions:
1. What need is this model/project addressing?
a. What for?
i. why?
b. Target area?
c. Who?
d. What values and reasons hold us together?
2. How can this be made operationally viable?
a. the technological aspects
3. What are the actions within the projects that reach the purpose (Question 1 in this list)?
a. the emergent pattern language of this project
i. What is the structural coupling required of a concrete case for it to adapt to this project and for the project to be relevant to such a case
1. for example, Enrique's doctoral program in Argentina
2. what are the patterns here that relate to Question 2 in this list?
Mapping the model
-re-cast the emerging model as a 'three layer cake'
Victoria:
-Regarding the Why of this project, we can think of it in terms of pro-active coadaptation
o learning is the most important way of achieving this
-self-organizing action inquiry
-The means are the ends as Gandhi observed
o exactly what we would like to engage in is what we would like to see in the
broader world around us
-Enrique expressed that we should not hold this process as The Right Process
o it implies a lot of networked learning processes
-this expresses a ludic inquiry (from the Latin ludere meaning "to play",
as in Hermann Hesse's Magister Ludi)
-it involves embracing change as the central constant
-The learning process, in order to produce attitudes that are future creating, must be –
o critical thinking
o creative thinking
-The outcome of the learning will address the framework of characteristics that are the
very system we seek to evolve –
o beauty
o truth
o usefulness
o goodness
-How to learn in the way of re-evaluation process
Johannes:
-There are many projects
o actions happen
-they are fed by learning that happens
-they all serve the purpose of the meta-system
o common approaches
-feed the common purpose
-Actions of the projects facilitate the learning and speed up and improve the process
-At the meta-system level, we have the collaborative space
o we have a variety of individual projects that each of us are working on
-but people wouldn't know of the potential synergy between them
-so individuals from each project meet at the meta-system level to
coordinate their activities
o a common project
-different organizations collaborate on them for synergy
-Suggestions for common activities
o sharing on a regular basis (e.g. monthly) by Internet conferences projects,
project approaches and receiving constructive feedback and suggestions.
o meeting on a yearly basis for an in-depth exchange, a "meta" project
evaluation, the further development of the pattern language and community
development
o Sharing project ideas, projects and experience a "platform"
o involving each other actively in project activities for an in-depth exchange and
trust
o building an "expert" pool to resolve challenges of design better and faster
o putting together a common draft of principles/patterns/approaches out of
existing field books, concepts, tool boxes … and refine it for use as our "common"
language.
Stefan:
-The focus was all about enabling technologies
o creating the "link tank"
-the virtual space
-the real world spaces
• linking individuals with their real world engagements
o with the persons, you will link the contexts of the
persons
-Because learning processes are dynamic processes, there must be an interactive
aspect of the relationship
o web space
-one web address
o this is one enabling space
-The virtual space must support the real world spaces
o tools for integrating feedback
o tools for linking and learning
o tools for connecting people, projects and needs
-We will need to insure the interactivity
o creates the dynamic
-Accessibility issues
o digital divide issues
-there are approx. 60% of humans who do not have access to this
-younger people might be quicker than those with more life experience
o inclusion issues
-how open should the infrastructure be designed to be?
• should everyone be able to see and act on everything in the
virtual space?
-We will need laboratories and hubs
o both virtual
o and social nodes
-regular meetings and events
-This is a big project
o start with static site
-experiment, explore, and expand
Group decision:
-we work on a proposal – a generic proposal that would serve as a template from
whatever grant then we find
o from project perspective
o from technical perspective
o from generic systems perspective
-we could also just do it!

Defining the players and the playground
Now that we have identified the geographic centers of our research activities, we can focus on answering the following three questions –
1. Research Questions
2. Roles
3. Commitments
Kathia:
-Research Questions: What's the difference that makes the difference in our understanding of learning for sustainability?
-Type of projects: Looking at sustainability in a dynamic way and expanding the boundary of what we mean by sustainability so that it is more inclusive and is a journey that keeps alive a process of self-organization toward greater syntony.
Johannes:
-Questions: What are the patterns of sustainable development? What action-based approaches work best to reach sustainable dynamics? How does our whole society work
– how can we start changing the penchant toward quantitative thinking? How do successful communities – such as eco-villages – work, and what are the design patterns for them?
-Projects: small entrepreneurial projects that seek to use these patterns, in Europe, Asia and Africa, and now also in Mexico.
Enrique:
-Questions: How should regional development projects be designed to be sustainable? How can we organize the worldwide exchange of ideas to help Patagonia's doctoral work?
-Projects: the doctoral program of Patagonia in Argentina.
Victoria:
-Question: How do we design useful learning environments and processes that promote –
o an integral balance between consciousness and scientific knowledge
o a healthy skepticism
-Projects: UMA in general, and in particular, MA degrees in architecture, law and business. Also high school related to learning for sustainability.
Stefan:
-Questions: How can we effectively organize ourselves? How can we work together without loosing our individual identities? Under which identity will we not loose our individual identities? Ph.D. research question is about pattern language of emerging business knowledge refocused to aesthetics, ethics, and innovation (focused on the field of design).
-Projects: Change the Game initiative, centralized in Austria with service all over the world. Almtal – that is involved in regional development processes in a valley in Austria (the one where Conrad Lorenz imprinted), using a design process.
Regina:
-Questions: What are the developmental stages that lead toward sustainability? What is the business case for sustainability? How can we create the environment and the mental state for innovation? What is the leadership for culture change?
-Projects: Blekinge Institute of Technology (BTH) in Sweden, Meredith College on the East Coast of the USA, Fielding Graduate Institute in California, Marylhurst University in Portland and Portland State University, and in Austria with a few others institutes.
Alex&er:
-Questions: What are the conditions that foster self-directed sustainable development? How can we align the four dimensions of Syntony in day-to-day life? If the organizing principle of evolutionary process is that consciousness takes on form, then what are the implications for pro-active co-adaptation?
-Projects: ELI, Green MBA, Organization Development, UMA, Waldorf
Hellmut:
-Questions: How can we engage in using, guiding, and controlling societal change?
o through learning and innovation
-including societal innovation
o using qualitative research
o modeling and simulation
– -> transdisciplinary research
-Projects: Research in shamanism in Siberia and elsewhere
Susana:
-Questions: How can we use Information Technology and Artificial Intelligence to promote self-organized learning?
-Projects: Human-computer interaction models for self-organized learning. Mobile computing to support post-graduate training related to sustainability. Ontology development for sustainability.
Thomas:
-Questions: related to Kathia's, Johannes', Stefan's research questions. Mine would be – if you see experience as joy for sustainability, how can we design systems that foster this experience?
o through lucid engagements that enable such an experience
-joy for learning
-Projects: Developing a tool for organizing pattern language. Consulting projects related to innovation. Projects related to creating enabling spaces. Cooperation with the main press agency here in Austria related to R&D on education, innovation, and art.
RefleAction Research Question
What would you share with this group in terms of valuable experiences related to learning systems for substantiality? Self as Project: What are the new ways of being and becoming that bring us into relationships of sustainability?
-Concepts: What is the pattern language that we are seeing and how can we summarize that?
-Change: What are the new/emergent values/characteristics/attributes that we are seeking to foster?
-Learning: How can we design innovative learning environments and processes?
-Impact: What are the impacts/results/outcomes that this meta-system can bring about?
Metaphors for the emerging project
-Mirror
-Clear Path
-A Road to Somewhere
-Indefinite Destination
-Steps in the Right Direction
-Unity in Diversity
-A Clean Environment
-Totem Pole
-Connecting Sky and Earth
-Ballooning
-Reflections of possibility
-Memories of things yet to come
-Nesting potentials
-Fostering futures
-Protection of the fragile
-Potential and human potential
-Social architecture
-Sea of Potential
-Light in the Dark
-Guidance System
-Evolutionary Guidance System
-Stewardship
-Change the Game
-The Pernegg Bridge
-Bridging and connecting
-Beach perspectives
-The Innertube/Lifesaver
-The pool
-The party
-The toolset
Additional Brainstorm/Heartspeak ideas, images, references:
holding – releasing – connecting
evolve your world
change of heart
learnovation
ELPACAS – Evolutionary Learning for Pro-Active Co-Adaptive Sustainability
GlassBeads
Lovecats
Nexteps and commitments
-Stewards for each action-research team
1. Concepts
i. Johannes
2. Change
i. Kathia
3. Learning
i. Victoria
4. Impact
i. Stefan
5. Self as project:
i. Alex&er
-Stewards meet once a month on Tuesdays via Skype or GoToMeeting (w/Johannes)
o 10am – SF
o 12pm – Mexico
o 2pm – Argentina
o 7pm – Europe
-The 1-4 Stewards collaborate in conversations through Ning
o emergent outcomes will result from this
-The 5th Steward coordinates the conversations and prepares the report from work at
Pernegg
-Enrique will be involved with capturing the areas of the 1-4 being stewarded
o will seek to represent the systemic relations of our action-research questions in
a non-linear form
– -> concepts -> learning -> change -> impact <- In General … -Keep Thinking about our name -Explore Dreamfish + other collaborative tools -Stay alert for funding/application opportunities This Final Report from the 2010 IFSR Pernegg Conversation Team Nº 3 on Learning Systems for Sustainability is a synopsis of a much larger, more comprehensive research report generated by this team. As it is traditional in Pernegg, team members may also submit individual opinions in separate short papers. In order to obtain the full 57 page report, please send your request to alexander@syntonyquest.org. Additionally, the images embedded in this document are available for download at higher resolution from the following webpage — http://gallery.me.com/thelasz#100235 [caption id="attachment_3299" align="alignleft" width="498"]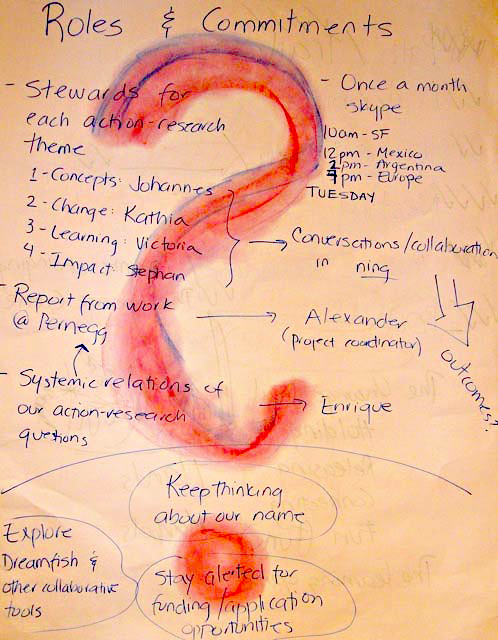 Figure 11: Team 3: Learning Systems for Sustainability, Proceedings of the IFSR Conversations 2010, Pernegg, Austria[/caption]